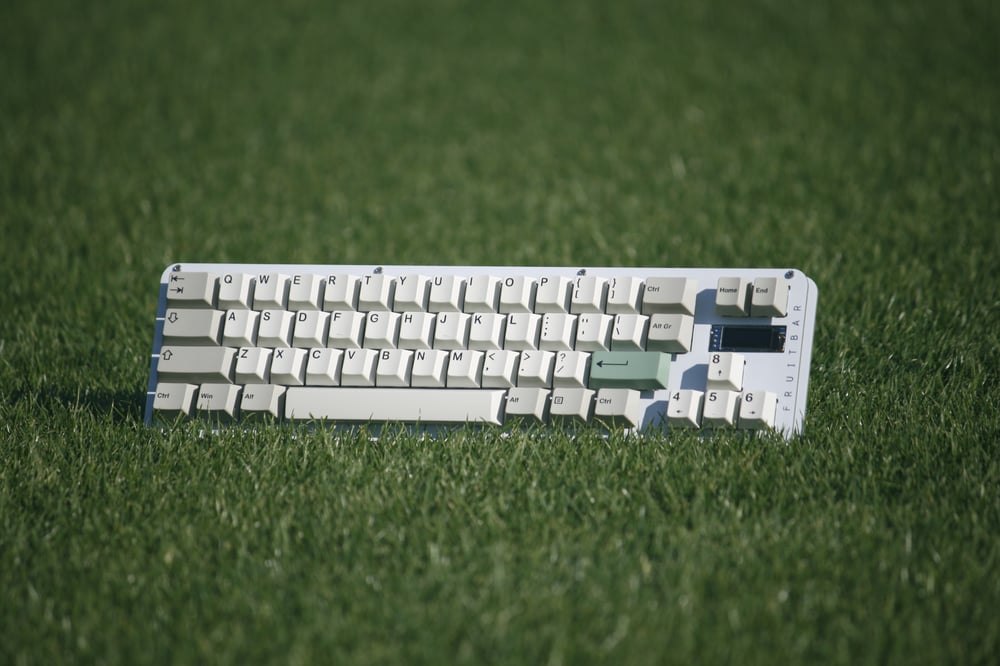 When I first got into 40s, the loss of punctuation, arrow keys, and weird mod sizes meant a steep learning curve and a struggle to find compatible keycaps. This is why I created Fruitbar; with a fun name and a fun size, Fruitbar is aimed to make your introduction to 40s as smooth and accessible as possible.
Build Guide + Resources: Coming Soon Here
Supported Layouts: KLE Here
Kits will include: ($55)
* Top Plate (White)
* Bottom Plate (White)
* PCB (Purple)
* Diodes (60)
* Screws n Standoffs
* Rubber feet
* USB-C Pro-Micro
* OLED Screen
* Lots of love <3
Addons:
* Encoder and Knob (+$5)
* Replace PM with Elite-C (+$15)
QMK, Vial, and ZMK support.

Note about Encoder and RGB: Due to limitations of the Pro-Micro pinout, Rotary Encoder and RGB is only supported with the Elite-C. The extra pins provided at the bottom of the controller are required for these to function.

Group Buy is active from October 1st to October 24th, 2021
Estimated Ship date is December 2021


Please note that this is a Group Buy. There can be delays and setbacks. The timeline provided above is only an estimate. By adding this item to your cart and purchasing, you agree that you understand everything stated above and that you have read the terms and conditions. You will be charged immediately for this item.
Photos displayed above are of prototype units. Final design will be slightly different; specifically OLED cutout is refined and only shows the screen instead of the entire OLED module.